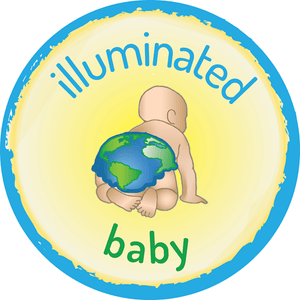 Illuminated Baby
Illuminated Baby

eco-friendly products, progressive child development & community
We closed our storefront on November 1, 2016, merging with New Baby New Paltz
Our Mission:
 The devoted mission of Illuminated Baby is to enrich the lives of families in the Hudson Valley by offering natural eco-friendly products, progressive child development classes and weekly community gatherings. With a focus on mind, body, and spirit these services and intimate workshops serve to educate, support and encourage an enlightened communion between parent and child, as well as foster a community of local families.
Our 1,500 square foot store offers a curated selection of high-quality natural baby and maternity products. Illuminated Baby was conceived to meet the myriad daily needs of families by providing healthy alternatives to the better-known conventional products on the market, as well as educate about and support alternative parenting choices.
Owner
Donna Bruschi, IBCLC is owner of New Baby New World. She serves as an International Board Certified Lactation Consultant, a La Leche League Leader and is President of the Breastfeeding Initiative of Ulster County. In 2010, her highly successful mother support groups evolved into her first store, New Baby New Paltz. Her passion is helping new mothers find their way through the first year through breastfeeding and their inner knowing. 
Donna brings a wealth of knowledge, warmth and humor to her work. Through her three children, including twins, she has personally experienced many situations families face. She and Jessie met when they both had brand new baby businesses and have been friends ever since. Taking over operations at Illuminated Baby was a logical next step for both Donna and Jessie. 
Founder
Jessie Walsh holds a masters degree in Psychology with a concentration in Counseling Psychology, Human Development, and Family Studies. Before becoming a mother, Jessie dedicated 10 years to counseling homeless and at-risk youth and young families in the Hudson Valley. In working with this population she acquired the experience, instinct, and passion for educating young mothers about infant and child development, working one-on-one to enhance the lives of both parent and child by helping to foster the natural bond between them.
She conceived Illuminated Baby in the same spirit, hoping to encourage a strong community for mothers like herself and the Hudson Valley at large. A Hudson Valley native, Jessie lives in Palenville with her husband Simone and their daughter Pearl, who was born at home in July 2010.
Jessie continues to be involved with placenta encapulation and counseling prenatal and new mothers.
---