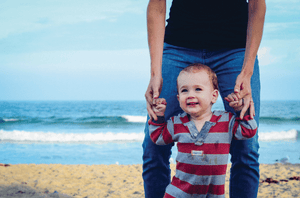 Trusting Your Instincts
By Lisa Bullard
I have been thinking a lot about trusting my instincts as a mother.
Sometimes that is easier said than done, especially when someone in an authority position (a doctor, a teacher, a specialist,) or someone whose approval I seek (my mother, my partner, my friend,) is telling me that something I am doing, is wrong.
It can be enormously frustrating and it recently happened to me.
I always just knew I would breastfeed.
In fact, I dreamed about breastfeeding a baby, years before I actually had Ember. I was surrounded by breastfeeders all of my life - My mom nursed my three brothers and me into toddlerhood; my mother-in-law nursed her children until they were toddlers; my sister-in-law nursed her children past the age of one; and the baby I nannied, nursed until she was 3.
I had so much support. Right down to my mother-in-law buying me a table to put by my rocking chair, so I had a place to set water and a book to read while I nursed!
I have been lucky enough to not have my choice about how I feed my daughter questioned until Ember was one. Just recently, a doctor told me I should wean her, and that it is not normal to nurse a one year old during the night.
I didn't even know what to say!
Why do I always think of what to say after the fact? I wish I would have said, "I have never aspired to be normal!" or "What's so great about being normal?"
Or, maybe I could have explained why it works so well for us! Nursing at night just works better than listening to Ember cry while my husband and I lay awake, all three of us in distress, nobody sleeping – instead, I can nurse her, and we all have more sleep and more peace (most nights).
I could have said, "But my baby is growing up so fast! I only get to nurse her for such a short time! I don't want to stop yet!" Or I could have explained the nutritional benefits of nursing into toddlerhood. Instead, I worried that maybe the doctor was right. I listened to her and left her office worried.
I called Donna at New Baby New Paltz.
Because I knew she had years of experience as a La Leche League Leader and lactation consultant, I asked, "Donna, am I a freak? Are there any other moms out there nursing their one-year-olds at night?" Donna reassured me that there were and we continued talking. By the time I hung up the phone, I felt better and I began the process of thinking through my choices.
After several days, I had regained my confidence and even more – I felt angry at the doctor for advising me on an issue I didn't ask for advice about – something deeply personal. I have realized a positive benefit though – it forced me to consciously evaluate my beliefs and practices and affirm my choices.
I can still feel angry at the doctor, even though his question ended up making me feel really feel confident.
I can also feel especially grateful for the support I have in my life. The experience strengthened my conviction that I need to trust my instincts. Ember is my unique daughter, living in my unique family, and we know (most of the time) what works best for us.
What is something someone said to you that caused you to doubt yourself? Share your thoughts in our Facebook group.
---