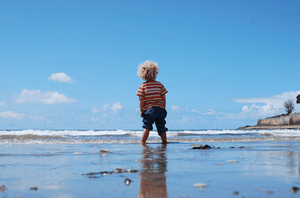 Swim Diapers - Not what you'd expect
Be beach ready with your Baby!
In New Paltz, we have many swimming options including the Moriello and Ulster County Pools, the beautiful Mohonk, Minnewaska, and Awosting Lakes, Split Rock and dozens of swimming holes!
All public swim areas require babies and toddlers to be in swim diapers. The purpose of a swim diaper is to contain poop so that it doesn't contaminate the water. It's a big procedure when an accident happens. It means closing the pool (Yuck!)
...and how embarrassing if it's your little darling...(By the way, when your little one is dripping out the bottom, that's just how it is. No swim diapers hold urine in.)
Don't use a regular diaper!
The polyacrylate beads in a regular diaper soak up water, and turn it into a HUGE heavy, soggy mess. Most people use disposable swim diapers, like Pampers Splashers and Huggies Little Swimmers which are available almost everywhere. The downside is that they are expensive, wasteful and honestly, not very cute.
"Where do I find these?"
New Baby New Paltz stocks I Play and GroVia reusable swim diapers in sizes 6M - 4T. We have plain old white and we also have the cutest reusable swimsuits and trunks with the swim diaper built right in. We also have sets that include an SPF 50 shirt and matching sun hats.
I Play and GroVia's swim diapers are re-usable, beautiful, sustainable and eco-friendly.  They can be machine washed and dried, or hung to dry.
Other bathing suit options include SPF 50 short and long-sleeve shirts and front-zip sun suits that cover your baby from knees to neck and elbows. There's no need to apply sunblock to a wiggly baby, worry about chemicals, or sunscreen washing or rubbing off. It is easy, gives you peace of mind and freedom to enjoy your time outside.
Reusable sun and swim ware is also economical. One sunsuit costs about the same as 3 bottles of sunscreen. One swim diaper costs about the same as a package of disposables.
---