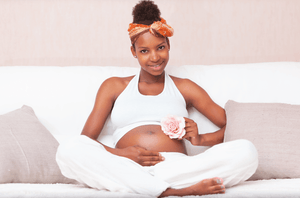 Mothers of the World, Unite!
By Jasmine Wood
Hello Mamas!
We come in all different shapes, colors and sizes
Yet our emotions all follow the flow of the same river, the timeless flow of motherhood. As women, we come equipped in our mother's womb with all of our living, giving powers. Just a few months after conception, the female fetus's eggs develop, meaning that mothers not only carry their children but also their unborn future grandchildren as well!
We are born of this world, yet this world is born of us at the same time, and the winding spiral of universal life dances on within each of us! 
For each woman, the call to motherhood comes at a different time. Some of us know from the first moments we remember that we are meant to be mothers! Others, like me, hear a silent call as we move through the adult years. A yearning for the unborn. We see a little baby on the street and our hearts skip two beats. We recognize the time has come to embark on the journey of the childbearing. Still others, find themselves pregnant without knowing exactly how it happened.
 Each minute approximately 251 babies are born worldwide: I suspect that for each of those babies born there is also a unique style of mothering born! It is time for us as mothers to unite; join hearts and minds together for the next generation: our children's generation!
For too long now, mothers have been separated, divided and underestimated! Stay at home moms versus working moms, vaccine friendly versus no vaccine, natural birth versus medicated birth, disposables versus cloth diapers, home schooler's versus public schooler's, the list goes on and on.
For every mother that loves her child, there is a unique way for her to care for her child.
There is no one method that will work for all of us nor, is there anyway of knowing what will work until you try it!
Let's work together as mothers to embrace the many different styles of parenting out there, whether they are aligned with our personal style or not. 
Brown Mamas, Short Mamas, Big Boob Mamas, Tall Mamas, Skinny Mamas, Rainbow Mamas, UNITE!  
This Mother's Day, open your heart to the world of universal possibility! Hug your mothers, and hug your daughters: the future mothers of the world!
 Always remember, the vital life force that flows from within you out into the universe, feel the life cord which connects you to everything else. Give thanks for your life giving powers. Give thanks to earth, the mother of us all. Give yourself a hand, kick up your feet, (sip a mimosa perhaps) and enjoy your special day, you deserve it!
The river of Motherhood runs deep, May it quench your thirst! 
Happy Mother's Day, Mamas, from my heart to yours! 
Till Next Time, Be Well! 
Jasmine
---