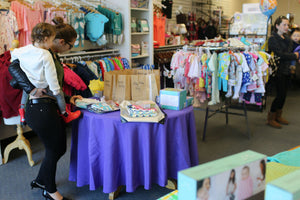 New Baby New Paltz Grand Re-Opening 2016
New Baby New Paltz Grand Opening
By Erica Chase-Salerno Published in the Kids' Almanac
January 7, 2016
What if you could park once and shop at both your local baby boutique and the grocery store? Now you can! Check out the Grand Opening of the newest New Baby/New Paltz, sister shop to New Baby/New World in the Water Street Market in New Paltz. The celebration takes place on Saturday, January 16 from 1 to 4 p.m. In addition to gear for infants, babies and toddlers, there is an adorable selection of clothing, carriers, toys and some excellent, empowering maternity and nursing wear, including BG Birthing Gowns.
This place isn't just for people with babies; there are lots of great gifts, and I actually picked up a birthing gown for myself, to keep on hand the next time I'm admitted to the hospital for cancer stuff. Stop by to congratulate owner and lactation consultant Donna Bruschi on her newest addition to the New Baby/New Paltz store family, try your luck at winning a door prize, enjoy some food and take home a goody bag.
New Baby/New Paltz is located at 264 Main Street at the ShopRite Plaza in New Paltz. For more information, call (845) 255-0624 or visit http://newbabynewpaltz.com.
---