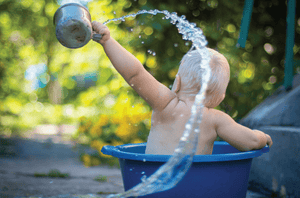 Summer Swim and Splash
Hot summers call for water and even the nearest puddle will suffice!
Spray bottles, baby pools, water tables and buckets of water all work for splashing and exploring the cooling and magical qualities of water. 
Is there an easier pastime than cooling oneself off on a hot day in a local pool, swimming hole, lake, or river?
Our area is full of natural places to take a dip, wade and play. 
While the Wallkill River is too polluted, you can check the DEC website for others. There are beaches up and down the Hudson River in Saugerties, Kingston, Newburgh and more. The swimming holes of Woodstock and High Falls are easy to find so park in a legal spot and follow the crowds.
There are "secret-to-outsiders" swimming holes which you can learn of by asking the right folks. The disaster of Deep Hole is a cautionary tale of how too many people can ruin a good thing. Deep Hole is still open but you will need a permit to enjoy it.
Moriello Pool in New Paltz, Rosendale Community Pool and the Ulster County Pool are all open to the public from Memorial Day to Labor Day and provide community gathering, friend making and watery activities for all ages. They are also on the UCAT bus route, making a car unnecessary.
Some destinations and activities lend themselves to higher activity levels and energy.
A short drive and a fee will allow you to swim Lake Minnewaska and Lake Mohonk. A short drive to Minnewaska State Park and a 8 mile roundtrip bike or hike opens up the private paradise of Lake Awosting. These Skytop lakes are clean and clear with quartz conglomerate bottoms and different beach experiences.
Mohonk Preserve is home to Split Rock, a swimming hole with a waterfall and a splashing area. Follow the stream down to the nude bathing area, or don't! It's probably more adult-oriented than kids will appreciate. ;-)
Berean Park in Highland has a sandy beach for family friendly gatherings. Tag team with other adults to explore Illinois Mountain on mountain bikes while the smalls do the doggy paddle in the lake.
You will also meet friends with pools and ponds and enjoy each other's company in the comfort of their yard and home.
Go basic with a long hose and a sprinkler in July when the lawn looks crispy or enhance the experience by investing in a slip and slide.
Enjoy the sunshine! Your body needs it, as does your child's!
Avoid the midday the sun and protect yourself by investing in an SPF sun shirt. Pop hats on your head and start a new bucket list exploring our area's water wonderlands.
Enjoy all the seasonal activities the summer has to offer here in New Paltz, farm markets galore, sun ripened berries to be picked fresh on the trail, wine and brew tasting, the River to Ridge and Wallkill Valley Rail trails, just to name a few! 
And don't forget to share your family's favorites with us!
---
1 comment