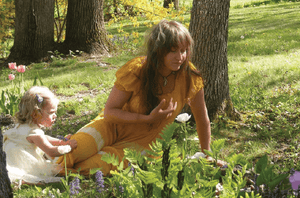 How Can I Leave My Baby? A New Mother's Journey with Separation Anxiety
by Jasmine Wood
Hello Mamas!
When my daughter was first born there was clearly no need for separation…
We were attached physically at the breast for long hours of each day and night, but more intensely we were attached emotionally and spiritually in ways I am still learning to understand…
Being a stay at home mom from day one, I felt continually blessed to have the time to find natural rhythms to attune each day together too.
I remember so vividly in the first week's home from the hospital how days passing brought so much change! Each night that we made it through together, the cozy three: Mama, Pop and Baby Rita Bear in our little nest seemed liked such a triumph. Each day shed new light on how we could best meet our little daughter's needs.
For the first two years of my daughter's life our exclusive breastfeeding relationship kept us within arms reach most days and nights.
In the past year, as my daughter has grown from 2 to nearly 3 years old I have left her several times to attend to adult activities which did not lend themselves to bringing her along.  We left once for an indoor rock concert and then again for an adults-only wedding reception. More recently, I was given a gift from my dearest friend of 2 nights of concert tickets for my husband and me.
Since our night's out are few and far between these days my heart jumped at the thought of two nights out dancing with my darling husband and best friend.
Then, the mother in me kicked in and I had my first taste of panic attributed to the obvious fact that if we were to accept this gracious gift it meant we would have to leave our daughter for two nights!
My husband and I both struggled with similar emotions:
"Would we be able to enjoy ourselves at the concert if our minds were elsewhere thinking about our baby and her well being?" An answer that could not be determined…For 6 months leading up to the concerts, July 4th weekend, I had mini panic attacks filled with separation anxiety at the mere thought of leaving little Rita. As the date drew nearer the panic worsened. It would come to me in the middle of the night, first thing when I woke in the morning.
Finally, it was the Friday we were set to take off to the concert dropping Rita off at her Grandparents for the weekend.
I asked my husband & friend "Should I just stay tonight and meet you at the show tomorrow?" My best friend responded "I understand your sentiment, but I think if you choose not to go it would be out of personal fear and not general interest/well being for your daughter…"
This statement rang with truth.
I had left my daughter for events before and she experienced no separation anxiety herself beyond a mere 'Where's mommy?' before she went to sleep.
It was not my daughter who suffered from separation anxiety, it was me!
But, it wasn't just me, it was dad too! Our emotional tethers to our daughter were so strong at times they seemed impossible to break, if even for an evening!
I then took the time to analyze our individual fears.
My husband and I were both really worried about my father taking little Rita out to fireworks on the Fourth of July, not only is she usually in bed by the time fireworks start but we were worried about her being out on the roads on one of the busiest nights of the year. When I expressed these emotions to my father he basically dismissed them by touting his good driving skills.
Since trying to make my daughter, myself, my husband, and my father all happy was starting to really stress me out I decided to write my dad a letter describing my emotions, separation anxiety and why I felt it would be best if they nixed the firework plans for this year.
After reading the letter my dad told me that 'He would be there to help me work through my emotions and feelings of separation anxiety' and also that they would stay in that night skipping the fireworks! Yes, mission accomplished, all parties satisfied, all emotions rationalized:  May empathy always reign supreme!
I find I'm not the only one!
While I was away that weekend my dad, Rita's grandpa, met another man whose wife experienced severe separation anxiety to the point where she didn't even want to make trips to the gas station without her young children in tow! It made him realize that his daughter was not going through these emotions in isolation. In fact, my mother had extreme anxiety issues when it came to leaving her children in the early years too!
I should also point out that little Rita had a great weekend with her grandparents, totally spoiled, filled with trips to the zoo, parties with sandboxes and ice cream, too! Also, Rita's father and I were given some much needed adult alone time which replenished our strong bond as companions and lovers!
I hope that this story can shed some light on the issue of separation anxiety from the perspective of a mother as opposed to a child.
The major lesson I have learned through leaving my daughter each time is that the only way it gets any easier is by doing it and working through the emotions, but most importantly, by doing it in your own terms.
Do not be afraid to vocalize how you feel time spent with a babysitter, relative or otherwise, should be spent! As they are your child, you know them the best, and ultimately all parties will come out of the experience feeling fulfilled!
Till Next Time, Be well!
Jasmine
---