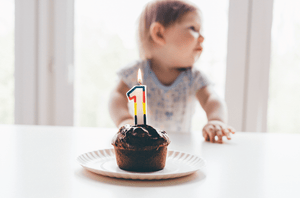 What? What Did You Say?
By Lisa Bullard (Originally published January 2013)
First of all, Happy New Year!!!
May 2013 bring everyone much joy, harmony, and love!
On a more mundane note, my thoughts have been scattered for, oh, about 17 months now . . .
I'm bringing this up because I just couldn't figure out what to write for the newsletter and I realized it was because this is what was going on:
Me thinking: I could write about how amazing language is and I . .
Me talking: "Wait! Ember, honey, we can't climb on that shelf! Yikes! Here. Would you like to draw? Here are some crayons and paper."
Me thinking: Okay, so yeah, I just can't believe babies' drive to learn, and how we all had to learn to talk, and how much vocabulary we all store in our memories. I could write . . .
Ember: Holding a crayon dangerously near my eyes: "Mama. Mama. Mama. Mama. Mama."
Me: "Oh, you want me to draw?"
You get the picture.
In fact, as a parent, I'm sure you also live the picture!  Anyway, one day I finally hit a nap time when I had a chance to sit, think and write. I want to share that as I watch Ember learn to talk, I realize just how incredible our drive to communicate is! To think that we all had to learn the vocabulary we use word by word!
In hindsight, things make sense.
As Ember is able to communicate more to us, we are figuring out some of the reasons she cried as a baby. We always did our best, but sometimes just didn't know what she wanted.
For instance, we were at a Christmas party with a table full of snacky foods. She started saying something, and whimpering, but because of the noise I couldn't hear what she was saying. By the time I made out the word she was saying, she was heading towards a full blown cry.
"Cracker," is what she had been asking for.  Knowing her needs made the solution quite simple – give her a cracker. No problem. Crisis easily averted quietly and with no tantrum.
I love language!
---